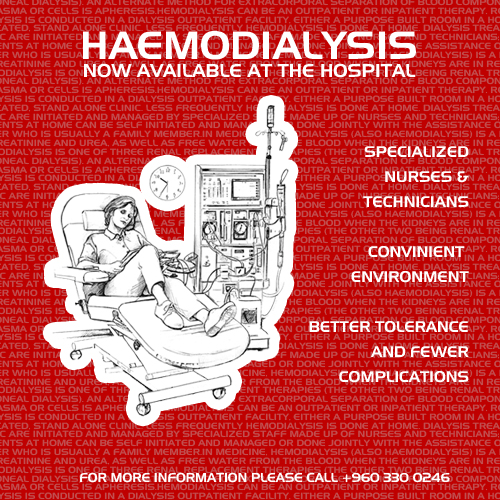 | DEPARTMENT | DOCTOR | TIME | ROOM |
| --- | --- | --- | --- |
ADK Hospital inaugurated MRI Services in the Maldives for the first time in year 2003. Since then, ADK Hospital has provided MRI services to the whole Maldives for the past 10 years. This Hospital is still the only facility that provides this service in the country. In the recent past, some politicians have spread misleading and non-factual information about this service and hence the Hospital at this juncture publishes this article to clarify the facts to the public.

On March 10, 2013, ADK Hospital has been awarded with the Century International Gold Quality Era Award. The awarding was held at a gala dinner at the 15th Century International Quality Era Convention held in Geneva, Switzerland. The Managing Director of ADK Hospitals Pvt. Ltd. Mr Ahmed Afaal participated in the Convention and accepted the Award on behalf of ADK Hospital.
As part of the patient engagement component of the Quality Improvement Strategy, activities for patients are planned to be carried out by the ADK Hospital. The activities will be in the form of presentations on important and common illnesses, with a focus on how patients can contribute to preventing and managing their illnesses. The presentations will offer an opportunity to disseminate information to patients, and for patients to clarify questions regarding their condition.

Over the years, many Maldivians travel abroad to seek health services. Many a time, these people seek services abroad for those that are readily available in the country. But why?
Ambulance
24hr hotline:
331-3553 (+1)
Provide the following information:
Nature of the emergency
Exact location and directions
Name and contact details of the caller
Packages
This Screening package specially designed for people who wants to do a simple medical checkup.
More Info
This Screening package specially designed for busy executives and people in stressful jobs.
More Info
This Comprehensive package tailored specifically for those above 40 years of age.
More Info